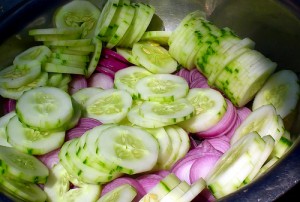 As temperatures soar, crunchy and crisp cucumbers can be found at your local farmer's markets, as well as possibly your own garden. This post features a delicious chilled cucumber soup recipe that shines a spotlight on that popular summer food.
A big warm thanks to the award-winning Blue Moon Evolution of Exeter, New Hampshire, for agreeing to share its special Chilled Cucumber Soup recipe with Seasonal Wisdom readers.
Cucumbers and red onions photo copyright Rameshng on Flickr.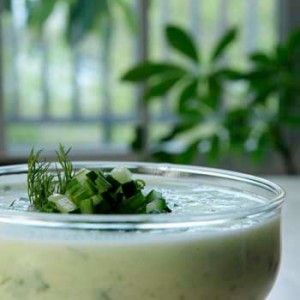 Chilled Cucumber Soup. Photo copyright Blue Moon Evolution
Chilled Cucumber Soup from Blue Moon Evolution
Ingredients
6 cups of  cucumber, peeled and rough chopped (about 6 cucumbers)
1 avocado
3 cups of milk
¾ cups of plain yogurt
¾ cups of sour cream
2 teaspoons of garlic, minced
1 tablespoon of lemon juice
1 tablespoon of salt
¼ cup fresh dill, minced
2 tablespoons of fresh mint, minced
2 tablespoons of chive flowers

or

2 tablespoons of red rnion, minced
Chilled Cucumber Soup Directions:
This refreshing summer soup recipe couldn't be easier to make, and there's no need to turn on a hot stove either.
In batches in a food processor, puree cucumber, milk, yogurt, sour cream, garlic, lemon juice and salt.
Stir in herbs and enjoy chilled!
About Blue Moon Evolution: Since 1995, this award-winning restaurant in Exeter, NH has been serving fresh, local and organic foods in an open, kitchen-friendly environment. A regional leader in New England's locavore movement, Blue Moon Evolution has been honored with several awards, such as New Hampshire Magazine's "Best of NH" and Billy Costa's TV Diner Gold Plate Award.
Want to grow your own cucumbers? Here's expert growing advice from the Ohio State University Extension Service. Remember cucumbers are in the same plant family as squash, pumpkin, melon and zucchini, so keep that in mind when practicing crop rotation.
What's your favorite way to enjoy cucumbers in the summer?