If you like home-grown tomatoes, peppers, basil, oregano and other delicious warm-season herbs and vegetables, you're in luck. Right about now is when many gardeners can expect their last average frost date, so it's time to get planting your kitchen garden.
That's why we're delighted to host this Grow Your Groceries Giveaway.  One lucky gardener will win a Bonnie Plants 4×4 raised bed (valued at $59.99) and a $50 gift card towards plants. Plus, you'll win a copy of Grocery Gardening: Planting, Preparing and Preserving Fresh Foods.  But hurry! This random drawing ends at midnight on Wednesday, May 9, 2012.  Photo copyright Bonnie Plants.  This giveaway has ended. Congratulations Beverly of Springdale, Arkansas for winning!
If you read Seasonal Wisdom, you know how we love growing and enjoying garden-fresh foods. So, when Bonnie Plants approached us about sponsoring a Grow Your Groceries Giveaway, we knew you all would be excited. In fact, you probably already know the quality of Bonnie Plants, as its vegetables, herbs, flowers and more are sold throughout the nation.
Although the company started in 1918 in Bonnie and Livingston Paulk's backyard, Bonnie Plants is now part of the Alabama Farmers Cooperative. The national wholesaler grows plants in 70+ greenhouses around the United States. This approach supports local growers in other parts of the country, and ensures plants don't travel far to reach your retailer, and ultimately, your garden.
Grow Your Groceries Giveaway Prizes:
Here's what you can win in this exciting giveaway:
One Bonnie Plants 4×4 Raised Bed — see first photo above (Valued at $59.99):  This eco-friendly raised bed is made of recycled plastic, and provides a good growing space even if you have poor soil in your garden. For added flexibility, adjust this bed easily into different heights, shapes and sizes. This product is sold at Lowe's.
Another prize is a $50 Visa check card to use towards the purchase of Bonnie Plants vegetables and herbs for your new raised bed. You can find Bonnie Plants sold at more than 1,700 independent garden centers and big "Box Stores" around the United States.
Looking for planting ideas? Why not grow a Pizza Garden in your new raised bed, similar to the one built by Better Homes & Gardens. You can find the plans for a 4×4 raised bed pizza garden here. Other garden plans are on the company's Pinterest page.
Follow the Bonnie Plants' Pizza Garden planting guide, and you'll grow many of your own garden-fresh ingredients for a homemade pizza.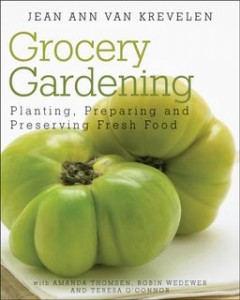 A Bonus Prize: Not only will you win a Bonnie Plants raised bed and $50 towards Bonnie Plants edibles, you'll also receive an autographed copy of Grocery Gardening: Planting, Preparing and Preserving Fresh Food. In the book, you'll find gardening tips, recipes, nutritional information and serving ideas, along with preserving facts on more than 20 fruits, vegetables and herbs.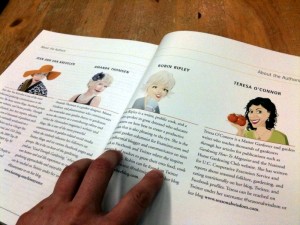 Grocery Gardening was co-authored by yours truly, along with three other well-known gardening writers including Jean Ann Van Krevelen, Amanda Thomsen and Robin Ripley.  Not only did we all meet on Twitter, but this crowd-sourced book features gardening tips, photographs and recipes from around the world.  You'll find lots of good ideas for using your new raised bed and $50 gift card!
Enter to Win! We'd be delighted if you would follow Seasonal Wisdom and Bonnie Plants on Facebook, but this is NOT a criteria to win:
It's easy to enter this Grow Your Groceries Giveaway (valued at more than $100), but hurry! This giveaway ends at midnight on Wednesday, May 9, 2012.
How to Enter:  Leave a comment below 1) telling us what foods you would plant in your raised bed, and 2) some of your favorite serving ideas for those foods.
The winner will be chosen at random by May 11, 2012 and contacted within 24 hours. If the proposed winner forfeits or does not claim the prize by May 15, the prize will be re-awarded based on the sponsor's sole discretion. All prizes will be awarded. Please provide your name and email to enter this contest, so we can contact you promptly if you win. The winner agrees to allow his/her first name to be mentioned in conjunction with this giveaway. Please check your spam folder on May 11, 2012 to make sure you receive notice if you win.
The number of eligible entries will determine the odds of winning. This giveaway is limited to U.S. residents only, who are over the age of 18 years old. NO PURCHASE NECESSARY TO WIN. This sweepstakes is VOID WHERE PROHIBITED BY LAW.  By entering this giveaway, you are agreeing to these conditions.
Disclaimer: This is a sponsored post, and the Bonnie Plants prizes were provided at no charge for this giveaway.
Please be sure to enter this giveaway before midnight on May 9, 2012. Good luck everyone! Meanwhile, stay tuned for more growing tips, garden-fresh recipes and helpful gardener interviews in upcoming weeks. Congratulations to Beverly of Springdale, Arkansas for winning!