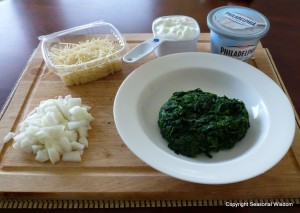 If you're planning a party with friends, this Warm Spinach and Bacon Dip will win you plenty of fans. It's a bit decadent, with bacon and cheeses, but this recipe offers low-fat options. And boy does this homemade dip taste good. Check it out!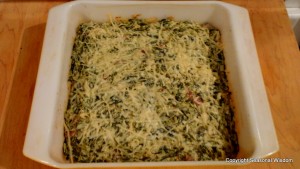 This Warm Spinach and Bacon Dip is delicious for potlucks, dinner parties and other fun events.  Don't be surprised if the entire bowl of dip gets eaten quickly. The two times we've tried this appetizer, it didn't last long. Make sure you grab some of this dip yourself, before you put it on the table.
Warm Spinach and Bacon Dip
Prep time: 30 minutes
Cook time: 30 minutes
Ingredients
5 bacon slices, chopped (preferably local, pasture-raised animals)
1/2 sweet onion, chopped
2 garlic cloves, chopped
1/4 cup dry white wine
16-ounce package of frozen chopped spinach, thawed completely
12 ounces low-fat cream cheese or Neufchâtel cheese
8-ounce container of plain, low-fat yogurt
3 ounces goat cheese
3/4 cup freshly grated Parmesan cheese
1/2 teaspoon dried crushed red pepper
1/4 teaspoon salt
Black pepper to taste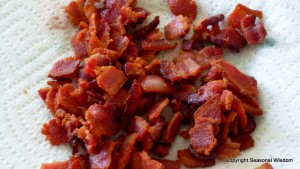 Instructions:
Step 1: Cook bacon in a Dutch oven over medium-high heat until crisp. Remove bacon and drain on paper towels. Reserve 1 tablespoon of drippings in Dutch oven.
Step 2: Sauté onion and garlic in hot drippings 3 to 4 minutes. Add white wine and stir to loosen particles from bottom of pan. Cook 1 to 2 minutes.
Step 3: Add low-fat cream cheese, plain yogurt, goat cheese and crushed red pepper. Stir well. Then add, 1/2 cup of Parmesan cheese. Cook about 10 minutes at medium-low heat, until cheese is melted and thoroughly heated.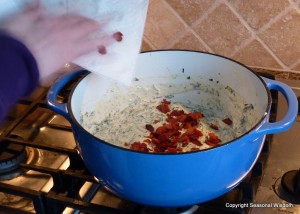 Step 4: Add bacon bits, and mix well. Then transfer dip to a lightly greased, 1 1/2 quart baking dish.
Step 5: Sprinkle with the remaining 1/4 cup of Parmesan cheese.
Step 6: Bake at 400 degrees F. for about 10 minutes until cheese is melted. Serve immediately with fresh vegetables and bread slices. Enjoy!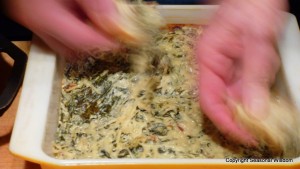 Here was our Warm Spinach and Bacon dip at a birthday party this weekend. As you can tell, it was quite a hit. In fact, we left with an empty bowl and a slew of happy stomachs. Two important signs of a successful recipe!
If you try this dip, we'd love to hear what you think.