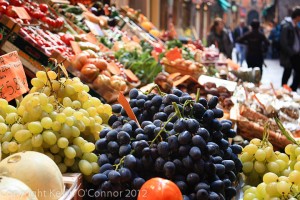 Sit back and enjoy this tour of Bologna — Italy's food capital — as we spend the day shopping the old food markets of this historic and hospitable city. Our guide is the delightful Carmelita Caruana of Cook Italy, who takes us to some of the city's finest food sources, before teaching us how to cook a delicious Italian feast in her charming home.  Photo copyright Kevin O'Connor.
A while back, I found myself on a flight to Bologna to learn more about Italy's foodie capital. But this adventure really began months before, on Valentine's Day 2010 to be exact, when I learned I had won a Twitter giveaway for a full-day market tour and cooking class with Cook Italy, Bologna's first professional cooking school.
Once I stopped screaming with delight, I decided to learn more about Bologna, located halfway between Florence and Venice.
The area around Bologna has pretty much been inhabited since the ancient Etruscans, Celtics and Romans settled here. So, to say that Bologna is "rich in history," is a bit of an understatement.
One of Bologna's nicknames is la dotta or "the learned."  This attractive city of about 500,000 residents is home to Europe's oldest university, founded in 1088.
The highly respected university has long attracted students and dignitaries from around the world, including many of Europe's noblest families. These days, you'll see visitors and locals, chatting away on cell phones or enjoying the sights with friends, near the majestic Fontana di Nettuno statue (built in 1566) in the Piazza Nettuno, near the center of town.
Bologna is also known as la rossa or "the red," partly because of the burnt reddish colors and red tiled roofs of the city's medieval and renaissance buildings.
Lining the city's walkways are about 20 miles of portico arches, built centuries ago. These wide porticos allow you to meander along Bologna's elegant streets in all kinds of weather, and make ordinary errands feel a bit more special. Behind the huge massive doors are secret courtyards that take you back in time.
Not surprisingly, Bologna's third nickname is la grassa  or "the fat."  This modern, vibrant city is the regional capital of wealthy Emilia-Romagna — Italy's food center — home to delicacies such as balsamic vinegar, mortadella di Bologna, pancetta, Parmigiano Reggiano cheese and Sangiovese wine. So, a better definition for la grassa in this case is probably "the rich or the abundant" — as in lots of really good food, which could very well make you fat if you aren't careful.
With that in mind, I set off to meet Carmelita Caruana, owner of Cook Italy, which the London Times called "one of six great cookery schools in Italy."
Carmelita had agreed to show me how to shop and cook the perfect Bolognese dinner for an October evening.
OUR MENU
Crostini ai Funghi di Bosco
Toasted bread with wild mushroom topping
Tortelli di Zucca
Homemade egg pasta with winter squash or pumpkin filling, dressed with butter and Parmigiano-Reggiano
Coniglio ai Carciofi
Pan braised rabbit on the bone with sage and rosemary
Our day began in the world-famous Bologna food market, where we shopped for ingredients for our meal. Located near the thirteenth-century Piazza Maggiore, the market street names reflect what was sold in earlier times: via Orefici - goldsmiths, via Drapperie - cloth sellers, or via Pescherie Vecchie - street of the old fisheries. We spent a lot of time that morning near the Mercato di Mezzo, the lovely open food market, renowned throughout Italy.
Our first stop, however, was Macelleria Del Vicolo. This is the kind of the butcher that would make most U.S. chefs weep from the sheer quality and freshness of the meat.  Our butcher Roberto prepared our saddle of rabbit, which is a popular meat in Italian meals. Less commonly eaten in the United States, we were eager to try rabbit that day.
We wandered the narrow, cobblestone streets filled with market stalls and stores, overflowing with richly colored vegetables, nuts and fruits. As we shopped, Carmelita shared "insider's tips" to the city's food scene, pointing out special items available only for the season.
When shopping Bologna's well-known food markets, it's important to remember common courtesy, reminded Carmelita. "Always allow the stand owners to select the produce for you," she advised. "Never touch their produce without asking, and don't negotiate prices in Bologna, unlike other cities. Remember it's a privilege to shop here."
From colorful beans and hot peppers to different fruits, Bologna's food displays are a work of art.
We wanted to sample everything we saw in these picturesque Italian food displays.  Bologna is truly a paradise for those who love local foods.
Our appetites grew as we walked down the colorful market streets of Bologna, and listened as Carmelita pointed out the better specialty shops and warned us against overpriced tourist traps.
If you get tired from shopping, there are plenty of places to grab a bite so you can regain your strength.
Mushrooms were particularly abundant in October, including these wild chanterelles and porcini mushrooms. These would be featured in our dinner later that night.
We fell in love with the bold colors and textures of these street flowers. Wouldn't they make a luscious fall bouquet with ornamental grasses and a few stems with bright berries?
A special highlight was this trip to Gilberto, where Carmelita and the owner presented a private mini-class on the region's balsamic vinegar selections and allowed us a personal taste test of the store's private stash.
This historic store sources products from all over Italy, and it's easy to spend hours looking over the gourmet food selection. We left with a couple bottles of private stash Modena balsamic vinegar and a jar of pistachio pesto.
You'll see plenty of fresh pasta of all types tempting you from the store windows in Bologna.  Most of what we see in the United States is made from durum wheat flour, which is what Italian law requires for all dried pasta.
But in Bologna and Emilia Romagna, the pasta is handmade, golden fresh with farina and eggs. And it's delicious!
Not far from Carmelita's class kitchen is this pasta kitchen, where women and men of all ages create hand-crafted pastas for purchase. The pasta kitchen belongs to the renowned La Salumeria di Bruno e Franco, a well-known food shop shown below.
La Salumeria di Bruno e Franco was one of the final stops on our shopping adventure with Carmelita. This delightful shop, a couple blocks from the city center, had an amazing fresh pasta display, not to mention pickled foods, cured meats, Parma ham, Mortadella and much more.
We also bought some grappa and wine from Enoteca Italiana, right around the corner, which is considered one of Italy's best wine shops.  We were particularly impressed that the knowledgeable employees recommended moderately priced bottles, even though we were obviously tourists.
After shopping, it was time to get cooking. Carmelita's charming kitchen overlooks a church, and provided a cozy spot for us to talk, cook and sip a little wine.
Parsley, artichokes, chanterelles and porcini mushrooms made a pretty still life, before we started chopping most of these foods to make our meal that day.
This Crostini ai Funghi di Bosco is prepared simply to bring out the natural flavors of the mushrooms. Some other toppings Carmelita recommends include "cured Pecorino cheese brushed with strong honey or the freshest raw pork sausage flavored with fennel seeds."
Next, we started making Tortelli di Zucca, homemade egg pasta with a winter squash or pumpkin filling dressed with butter and local Parmigiano-Reggiano cheese. We used pumpkin for ours, which seemed appropriate for an October meal.
Our hard work paid off with Carmelita's help. Here are our homemade tortelli stuffed with pumpkin, and spiced with a bit of nutmeg and pepper. They tasted as delicious as they looked too.
Voilá! Our homemade Tortelli di Zucca, with just a few bites taken already.
Typically, Coniglio ai Carciofi is eaten with artichokes, but we skipped those this time.  During the cooking process, the herbs are bundled together and removed just before serving this delicious rabbit. A bit of dry white wine adds flavor and helps deglaze the pan during the braising.
As if that wasn't enough, we still had our takeout food from the Salumeria, along with pages of Carmelita's recommendations for excellent restaurants, drinking spots and other culinary delights in this city of food.
These personal touches by Carmelita were what differentiated Cook Italy from just another cooking school for us. Instead of feeling like a number, we felt like a member of her family visiting from out of town.

Fluent in English and Italian, this Malta native really knows her adopted city of Bologna. This was obvious from the warm welcomes Carmelita received from all the shop owners and market employees.
Her expert market tour, delightful cooking class and insider Bologna tips were what elevated this culinary experience into a food experience we'll never forget.  If you ever dreamed of learning more about Italian cooking, we highly recommend Cook Italy and the warm-hearted Carmelita.
As for Bologna, we fell hard for this delightful city, where Italians far outnumber the tourists and the service is nearly always gracious and polite. There are other Italian cities where English is spoken more freely, but we enjoyed the adventure of trying out a little Italian and we certainly appreciated not being treated like another annoying tourist.
Besides, how can you not love a city renowned for higher education, medieval architecture and some of the world's most delicious foods? That's why we're already trying to figure out how we can get back to Bologna.
Learn More: 
Cook Italy – Website     Facebook     Twitter
Restaurant Tips:
Carmelita provided pages of excellent restaurants, and warned us away from over-rated places.  We fell in love with a few spots a bit off the beaten track, including:
Osteria La Traviata  (Urbana, 5c) – This restaurant owner won our hearts when he brought out fresh, just-bought white truffles and suggested we try them with pasta. If you find yourself in the same lucky position: Don't make our mistake and share a portion. You'll fight over the last bite. The meal's highlight, however, was when the owner brought out a bottle of his special grappa and insisted we share a drink together.
Teresina (Oberdan, 4) – A small, but pretty place to enjoy some fish or a plate of pasta. The host didn't speak English, but he provided excellent service and made certain we enjoyed our delicious meal.  Located a short walk from Piazza Maggiore.
Trattoria Tre Leoni (Turati, 112) – We arrived early for dinner, but our waiter took great pleasure in serving us at this simple, reasonably priced trattoria.  Not sure what it's called, but I enjoyed a rustic dish of cabbage rolled around ground meat. When we ordered grappa as a nightcap, the waiter left the bottle at our table so we could serve ourselves using an honor system. Blame it on the grappa, but I forgot my umbrella when we left. The next day, it was waiting for me by the door.
Gamberini (Ugo Bassi, 12) – Absolutely gorgeous fresh canapés and aperitivi (pre-dinner drinks) attract plenty of stylish Bolognese to this centrally located café bar, which has Bologna's oldest bakery.  For the best people watching, go around 6:30 to 8:30 PM.