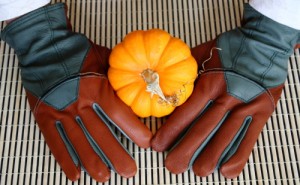 SPONSORED POST - Just in time for the holidays, the folks at Fields & Lane are sponsoring a special giveaway of two pairs of high quality leather gloves for Seasonal Wisdom readers. It's easy to enter. But hurry, you only have a few days to win. Photo copyright Kevin O'Connor.
Soft, flexible and naturally water-resistant, Fields & Lane gloves are ideal for gardening, working outdoors or just keeping warm in winter.  The attractive gloves are made from soft goat leather, which unlike other leathers won't crack or get hard when wet.  So, go ahead and put them to work. These gloves can take it.
I was recently sent a pair of Fields & Lane Forester gloves (valued at $27) to review. I particularly liked the way these durable leather gloves stood up to water, as I always get my hands wet and dirty in the garden. Most leather gets stiff and starts to crack when exposed to water, unfortunately. But goat leather surprisingly doesn't.
The Forester gloves are lined inside for comfort, and feature a convenient flex-line across the back so the leather gloves remain flexible and agile when in use. A tapered wrist helps keep garden soil out, so your hands stay cleaner.
Personally, I'd love to see these well-made leather gloves available in a broader range of colors, but the tan and blue colors should age well and hide the dirt better than others might.
Fair Trade Gloves: It's great when a product performs well, but it also matters how a product is made. Fields & Lane is based in Willamette, Oregon and sources all the materials for its gloves in the United States. The gloves themselves, however, are assembled in a fair trade factory in San Isidro, Costa Rico. Considered a "choice employer" in the region, the factory provides fair wages, weekly incentives, company parties and an employee credit unit.
The Laughlin family, who owns Fields & Lane, has had strong ties to this area since 1992. Before starting a factory in Costa Rica, they helped build La Escuela de Enseñanza Especial, a public school for children with special needs. The company continues to support two San Isidro homes for community members with special needs, and is an active supporter of special needs children in the United States.
This corporate philanthropy is considered an important value at Fields & Lane, and was inspired by the Laughlins' daughter who had cerebral palsy. "She gave us a vision," explains owner Bob Laughlin about his daughter. "She taught us to see what some people think of as a difficult situation as an opportunity."
The Fields & Lane Prize Package: One lucky Seasonal Wisdom reader will win 2 pairs of gloves, including 1 pair of Forester gloves (valued at $27; men's and women's sizes available) shown above … AND 1 pair of Wave gloves (valued at $29.35; only women's sizes) shown below.  Keep one pair for yourself, and give the other as a holiday gift. These gloves are a terrific stocking stuffer.
How To Enter: It's easy to enter this giveaway for two pairs of Fields & Lane gloves. Just do the following before midnight on December 5, 2011:
1)      Leave a comment below about why you want these gloves. Want to save your nails? Need leather gloves that stand up to water? Have a special someone who could benefit from a pair? Whatever the reason, we want to hear it. We also welcome good tips for keeping hands looking great during the gardening season.
For an additional entry …
2)      Head over to the Fields & Lane Facebook page and sign up for the company's newsletter. Then come back and leave a comment below letting me know.
More Details: THIS GIVEAWAY IS NOW OVER, AND A WINNER HAS BEEN CONTACTED. THANKS FOR YOUR INTEREST, AND CHECK BACK FOR MORE FUN GIVEAWAYS IN 2012.
The winner will be chosen at random by Dec. 7, 2011 and contacted within 24 hours. If the proposed winner forfeits or does not claim the prize by Dec. 12, 2011, the prize will be re-awarded based on the sponsor's sole discretion. All prizes will be awarded. Please provide your name and email to enter this contest, so I can contact you promptly if you win. The winner agrees to allow his/her first name to be mentioned in conjunction with this giveaway.
The number of eligible entries will determine the odds of winning. This giveaway is limited to U.S. residents only, who are over the age of 18 years old. NO PURCHASE NECESSARY TO WIN. This sweepstakes is VOID WHERE PROHIBITED BY LAW.  By entering this giveaway, you are agreeing to these conditions.
Disclaimer: This is a sponsored post, and product and compensation were provided. However, all expressed opinions are my own.
Please be sure to enter this giveaway before midnight on Dec. 5, 2011. Good luck everyone!