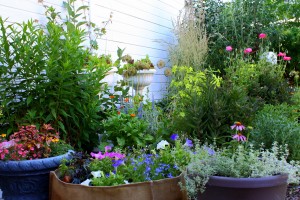 Each summer, my garden literally bursts into blooms from a wide variety of annuals and perennials. This year was no different. In fact, I was asked by Proven Winners to review a number of their newest plants for my USDA Zone 6b garden over the last few months.
Here are a few of my favorites. Photo copyright Teresa O'Connor.
Among the new Proven Winners plants I tested, Echinacea purpurea 'Little Annie' simply stole my heart. Echinacea varieties (also known as coneflowers) typically grow 2 to 4 feet tall, although you can now find several dwarf types.
'Little Annie' is a dwarf that really shines in small spaces. It's the most dwarf, compact coneflower available on the market, growing only 10 to 12 inches tall.  The small size makes it ideal for containers or scattered near the front of garden beds.
I planted my 'Little Annie' with two types of thyme. Echinacea also looks great with ornamental grasses, Shasta daisies, salvia, rudbeckia and more.
The lavender-pink flowers keep coming on 'Little Annie' from mid-summer to early fall. This easy-care perennial likes it sunny and hot. Once established, 'Little Annie' is drought tolerant, although you'll need to water it daily in a container. The pretty plant is hardy in Zones 3 to 8.
Plant 'Little Annie' in light, loamy, well-drained soil. Even when the flowers start to die away, they still maintain an interesting shape in the garden, as you'll see above. To keep this coneflower blooming, be sure to deadhead it regularly.
Another favorite was Proven Winner's Superbena®  'Royale Iced Cherry,' shown above with Ageratum 'Pearl Azure.' This new verbena hybrid keeps blooming until a hard frost. 'Royale Iced Cherry' is hardy to 15 degrees F. and in my garden, it withstood hot, dry weather nicely too.  The red-flowered plant is an annual everywhere, except in Zones 8 to 11.
Growing around 6 inches tall, these easy-to-grow plants are ideal in containers or in front of garden beds. The verbena thrives in full-sun conditions, and tolerates high temperatures. The ageratum tolerates both sun and partial shade.
Butterflies adore the verbena's colorful red blossoms, according to the Proven Winners' plant tag. In our garden, this certainly proved to be the case.
This summer, my front porch has been accented with two matching containers, featuring some of Proven Winners' newest Superbells® (Calibrachoa hybrid). Shown above are Superbells® 'Sweet Tart' and 'Cherry Star,' along with Ageratum 'Pearl Azure' and Stipa 'Sirocco' grass from my local independent garden center.
These Superbells® (Calibrachoa) provided non-stop color, all summer long.  The hummingbirds love the flowers. And the blossoms don't require deadheading either, which is a major time saver.
Although these annuals are heat tolerant, they are hardy to 30 F. and will keep blooming until a hard frost.  So, I'm expecting them to bloom into early-fall too.
Above is another angle of the container, which features a dramatic Stipa 'Sirocco' grass in the middle. The grass is surrounded with Proven Winners Superbells® 'Grape Punch' interspersed with Dichondra 'Emerald Falls.'  All these plants thrive in full sun conditions.
Unlike the other two plants, the Stipa 'Sirocco' grass is a perennial, which grows about a foot or two tall.  As temperatures drop, the wispy foliage changes to shades of pink and copper. I love the way the delicate grass cascades gently over my Superbells®.
Fertilize these plants regularly with an organic, balanced plant food, for best results. Even drought-tolerant plants in containers will need to be watered daily.
Meanwhile, what are some of your favorite flowers grown this year?
For more information on the Proven Winner varieties.
Learn about Stipa 'Sirocco' grass.