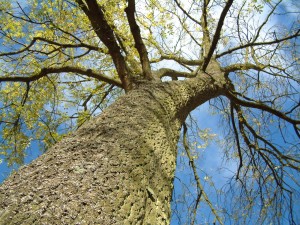 "The best time to plant a tree was 20 years ago. The next best time is now," says an old Chinese proverb.
Getting people to grow more trees in their neighborhoods and communities is the goal of a quickly growing online community called AmericanGrove.org.  To spread the word, they are giving away $50 gift cards to The Home Depot to two lucky Seasonal Wisdom readers…
Photo of an English tree by Ella's Dad on Flickr.
Nature lovers will find plenty to like about AmericanGrove.org.
What's to Do? You can create a profile and upload pictures and stories about trees in your area. Share gardening tips with other tree lovers. Learn about special events, and discuss how to protect trees in your community.
There's also a rather nifty search tool that lets you learn more about the symbolism connected with various trees in your area. This is a nice touch if you'd like to commemorate special events by planting a particular tree.
You'll find plenty of  helpful tree-planting advice.  Certified arborists and staff members of the state and national forestry agencies are members of the community, and can answer your tree questions too.
How'd it Start? The roots of this tree-supporting online community reach back to 2008. That's when the Georgia Urban Forest Council, Georgia Forestry Commission and U.S. Forest Service established a local program to encourage Georgia citizens to plant trees to protect the city's urban tree canopy.
The success of the Georgia program led other states, from Idaho and Illinois to Hawaii and Alaska, to establish local chapters.  There is an interactive map that allows you to find your state and join for free.
Win the American Grove Giveaway
It's easy to enter the Seasonal Wisdom-American Grove Giveaway. Just leave a comment below and tell us why the world needs more trees. Perhaps you'd like to focus on the environmental and beauty benefits of growing trees. Or, maybe you'd like to share a story of a favorite tree in your life.  As long as it supports trees, we want to hear!
Please submit your comments by July 8, 2011 to win. Two lucky Seasonal Wisdom readers will receive a $50 gift card to The Home Depot in this random drawing.  Just in time for your summer garden.
So hurry … and good luck!
Support your trees! Find American Grove …
On the Web at AmericanGrove.org.
On Twitter at @plantyourlegacy
On Facebook at The-Grove
Update: This random drawing is now over. Congratulations Jessica and Victoria.